Applications designed to facilitate the use or installation of our equipment and optimise your electrical network solution.
---
Complete Services assistance tailored to your needs through customised software.
CAHORS developed different applications to help custumers with their projects. Tailored to each situation, these tools will allow you to quickly install your satellite antennas. Supporting customers from design to equipment installation is a major objective of CAHORS. The CAHORS teams have developed practical, user-friendly tools to meet your needs and your technical issues.
---
QuickSat : mobile application dedicated to antennas installation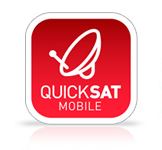 A mobile application developed to help customers to install and align mono-reception or multi-reception satellite antennas, and allow the reception of satellite television channels.
---
Big Bisat: setting and adjusting in 10 minutes !
Big Bisat, is an online software which automatically calculates all the necessary installation parameters required to align the BIG BISAT multi-satellite antennas to requested satellites at the exact custumer geographical location in the world.