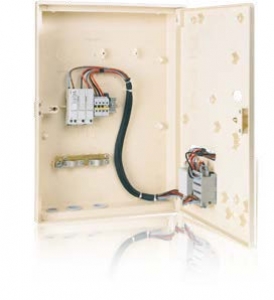 A set for the low voltage metering of a high power electrical installation of 36 kVA to 1250 kVA (20 kV).
---
Main Features
This equipment accommodates the SME meter and its corresponding modem.
It allows the connection of voltage U and I cables from a LV or MV monitored power facility with LV metering at the SME meter.
It is installed inside of a customer HVA/LV station or service room.
It is equipped with two voltage and intensity test boxes, a voltage protection circuit breaker, an intensity short-circuiting amperage terminal and an RJ45 client socket.
Available as a box or control panel.
---
Benefits
Compact
Synthetic material
---
Uses
Tertiary
HTA/LV customer station
LV and MV monitored power customer

More information

PDF Downloads
Download product file
Do you want to know more about our SME metering set solutions ?